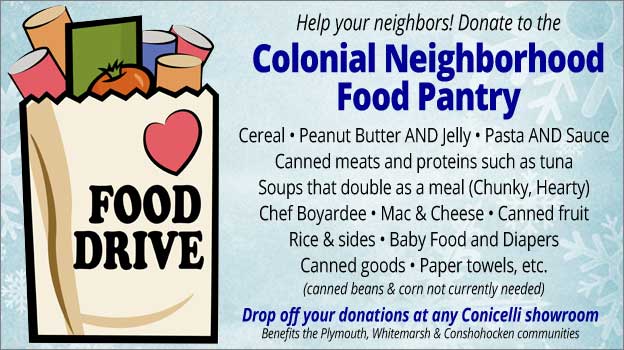 Please donate, and tell your friends & family, too!
The
Colonial Neighborhood Council Food Pantry
at 107 E. 4th Ave. in Conshohocken is in constant need of non-perishable food items to help the needy in the Plymouth, Whitemarsh, and Conshohocken communities.
Here at Conicelli Autoplex, we're trying to get the word out about this organization, its ongoing work, and the ever-present need for food donations.
Let's make sure that this community pantry never goes bare,
bring in your donations of canned goods and other non-perishables to any Conicelli showroom
. The showrooms are open Monday-Friday from 9-9, and Saturdays from 9-6.
You're sure to put a smile on someone's face, maybe a face you know from your neighborhood! It's always hard when you're struggling to feed a family, but it's particularly hard in fall and winter.
Help someone just like you get through a tough time; every donation can make a big difference!