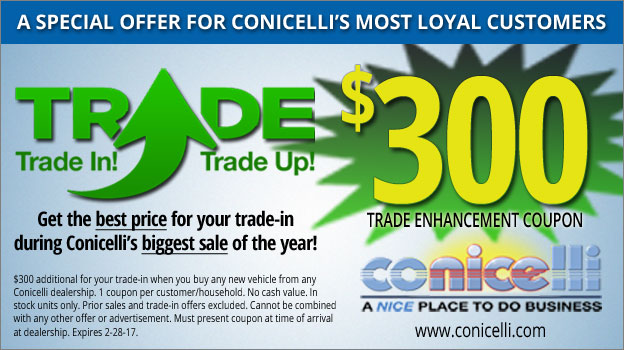 Trade In and Trade Up to a New Toyota, Honda, Hyundai, Nissan, or Genesis!

At Conicelli Autoplex, because of our large volume and huge inventory, we're able to offer top dollar for the vehicle you're trading in.

Simply fill out the quick form below or, if you'd prefer, call us to get a quick and easy in-person vehicle appraisal:
Ask the Conicelli Autoplex Internet Department to set up an appointment:


Bette Capaldo
Customer Loyalty Manager
610-828-1400, ext. 1128

Tom Smith
Customer Loyalty Specialist
610-828-1400, ext. 1047


Get Your Trade-in Appraisal & $300 Coupon!